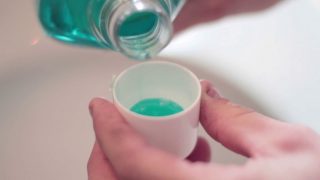 Mouthwash, also known as mouth rinse is a flavored, usually medicated solution used in rinsing the mouth and treating certain diseases of the mouth. It is an adjunct to regular oral hygiene practices. It is worth noting that use of mouthwash is not a substitute for daily tooth brushing and flossing. In Nigeria, mouthwashes can easily be bought on the counter and many tend to abuse its use and seldom use it as a substitute for tooth brushing. Generally, mouthwashes are useful for keeping the mouth healthy when used as an adjunct to regular brushing and flossing.
WHAT ARE THE VARIOUS TYPES OF MOUTHWASH?
There are 2 broad types of mouthwashes based on there impact on germs. They are as follows:
Cosmetic Mouthwashes: These work to temporarily mask bad breath. They are not formulated to directly kill germs instead they contain various flavors that help to contain bad odors. They do prevent gum diseases or tooth cavities.
Therapeutic Mouthwashes: These works by controlling the germs in the mouth. They are formulated to kill germs or prevent buildup of germs in the mouth that can lead to various mouth diseases. How they work is determined by the active material used in formulating the mouthwash. Common active ingredients to look out for include the following; cetylpyridinium chloride, chlorhexidine, essential oils, fluoride; peroxide. Others can be formulated at home using doctor's prescription e.g. salt and warm water etc.
WHAT ARE THE BENEFITS OF USING MOUTHWASHES?
They help to prevent or control tooth decay.
They help to reduce plaque & tartar.
They help to prevent or reduce gum diseases.
They help to freshen breath and control bad breath.
They can be prescribed to help treat various dental conditions such as mouth ulcer, dry sockets, periodontitis (a condition that makes the tooth mobile).
They are used as an adjunct to help the bone heal when a tooth is removed.
Fluoride containing mouthwashes can help to prevent tooth cavities.
HOW SHOULD MOUTHWASHES BE USED?
Generally, mouthwashes should be used as prescribed by your dentist. It is worth noting that some mouthwashes contain some ingredient that tends to bind with fluoride and thus render the mouthwash (therapeutic ones) inactive. In order to prevent this, your doctor may advise you not to use mouthwash immediately before or after tooth brushing. You may also be advised to use them after eating as a mouth rinse to remove food particles that may lodge between the teeth.
CAN CHILDREN USE MOUTHWASH?
Children below the age of 7 years are advised not to use mouthwash since their swallowing reflex (ability to control what is being swallowed) may not be well developed. Whenever mouthwash is recommended for children by the dentist, it is done under strict supervision and specific timeframe.
IS THERE ANY DISADVANTAGE OF USING MOUTHWASH?
Some mouthwash contain alcohol and thus when consumed in large quantities may lead to nausea, vomiting and intoxication. Some mouthwash may stain the teeth when used for a long period, while some may also alter your taste. It is thus important to consult your dentist whenever you want to buy therapeutic mouthwash so as to guide you on the type, quantity, frequency and period of time to use the mouthwash and if it is safe for use as mouthwash may stain veneers, filling or crowns in the mouth.
CONCLUSION
Mouthwashes may offer additional benefit in terms of reducing the risk of bad breath, cavities, or gum disease; or for relief of dry mouth or pain from oral sores, however, they are not replacement for routine tooth brushing and flossing.