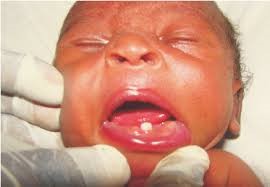 Teething is a normal part of a baby's development during the first year of life. Most babies get their first tooth between 4 and 7 months of age. However, some babies are born with teeth and these can seem mysterious or superstitious to some families especially those culturally inclined. Some of these children tend to be deprived of parental love and care based on cultural or spiritual beliefs. Some ethnic groups in Nigeria refer to these children as 'ogbanje', 'abiku' etc. because they believe that the children are monstrous and bearers of misfortune.
These sets of teeth are referred to as natal or neonatal teeth depending on how early they grow in the child's mouth and one should not be scared or worried about them unless the teeth interfere with feeding, or are a choking hazard.
DEFINITION
Natal Teeth – These are teeth present at birth.
Neonatal Teeth – These are teeth that erupt above the gum within the first month (30 days) of life of the baby.
CAUSES AND PREVALENCE OF NATAL TEETH
Natal teeth are relatively rare and occur in at least 1 out of every 2,000 live births. The rarity of natal teeth explains in part why some traditional beliefs were attached to it. The exact cause of teeth at birth is unknown. However. some medical conditions and predisposing factors are said to be associated with natal teeth.
SYNDROMES ASSOCIATED WITH NATAL TEETH
Cleft Lip & Palate
Sotos
Hallerman-Streiff
Pierre Robin
Ellis-van Creveld
Down Syndrome
Ectodermal Dysplasia
Craniofacial Dystosis
RISK FACTORS ASSOCIATED WITH NATAL TEETH
Close Family members with natal teeth
Malnutrition during pregnancy
Poor maternal health during pregnancy
Congenital Syphilis
Endocrine disturbances
CLASSIFICATION OF NATAL TOOTH
Fully developed crown held down by little root
Fully developed crown with no root
Small tooth crown just emerging through the gum
Unerupted but with evidence of tooth about to cut through the gum
SYMPTOMS AND POSSIBLE COMPLICATIONS OF NATAL TEETH
Natal teeth that aren't loose are usually left alone. But if your baby is born with loose teeth that have no roots, your doctor might recommend surgical removal. Some common complications of a loose natal tooth include;
Choking from accidental swallowing of the loose tooth
Feeding problems
Tongue injuries such as ulcer, inflammation etc.
injuries to the mother during breast-feeding
Dental caries on the tooth
TREATMENT
No intervention is usually recommended unless they are causing difficulty to the infant or mother. However some recommend that they be removed as the tooth can cut or amputate the tip of the tongue. They should be left in the mouth as long as possible to decrease the likelihood of removing permanent tooth buds with the natal tooth. They should also not be removed if the infant has hypoprothrombinemia (a condition in which the baby can have spontaneous bleeding if the tooth is removed).
CONCLUSION
Being born with teeth is rare, but it's possible. If your baby has teeth at birth, be sure to talk to your dentist. A dentist can help guide you through the process. Even if your newborn's teeth aren't considered an immediate concern, it's important to monitor them to prevent any complications.