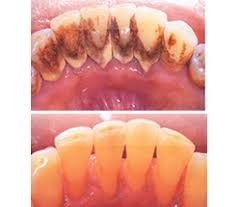 Most diseases of the mouth are caused by buildup of bacteria around the teeth. The bacteria build up are referred to as plaque and calculus (or tartar), and are formed when food particles are left behind on the tooth surfaces over a period of time. The food particles can be removed by rinsing with water after eating, flossing between teeth and brushing the teeth twice a day. However, no matter how well you clean your teeth there will always be areas within the mouth that are hard to reach and clean.
These areas tend to accumulate tiny food particles, which bacteria acts on and aggregate to form plaque. This plaque build-up, may then mineralize to form tough, hard deposits known as calculus (or tartar) which are sticky, hard & impossible to remove via regular tooth brushing. If these tartar are not removed, more plaque can build up around the tooth and below the gum line causing various gum and tooth diseases.
To reduce the risk of gum diseases and remove plaque and tartar, your dentist will recommend professional cleaning of the teeth called scaling and polishing, at least twice a year.
WHAT IS SCALING AND POLISHING?
Dental Scaling and polishing are routine, non-surgical, non-invasive procedures done to remove plaque and tartar deposits built up on the teeth and the polishing of rough tooth surfaces to make them smoother.
HOW IS SCALING & POLISHING DONE?
There are two stages involved in scaling and polishing of the tooth.
Scaling Stage: This is the first stage that involves removal of plaque and tartar deposits from the tooth surfaces. Often an ultrasonic scaler is used to scrape/remove heavy deposits of tartar and plaques, while other hand held instrument may be used to remove any stubborn deposits that remain.
Polishing Stage: This is the second and final stage that involves smoothening of the teeth surfaces. Here, a polishing brush along with 'special toothpaste' is used to remove stains and to smoothen rough –like texture on the tooth surfaces. A stain removing chemical may be applied on the tooth surfaces to remove stubborn tooth stains. A smooth tooth surface helps to prevent easy buildup of plaques.
WHAT ARE THE RISKS AND POTENTIAL COMPLICATION OF SCALING & POLISHING?
The procedure does not pose any direct risk to your teeth or gum. Instead it has great benefits in preventing various gum and teeth diseases in the mouth. In the course of the scraping stage, you might have minor sensitivity due to the vibrations from the instrument. However, this sensitivity can be managed by reducing the frequency of the ultrasonic scaler and use of desensitizing agent. Scaling & polishing is thus considered safe for all.
HOW OFTEN SHOULD SCALING & POLISHING BE DONE?
Scaling and polishing should be done at least twice a year. However, your dentist may recommend more frequent times depending on your oral health condition.
WHAT ARE THE BENEFITS OF SCALING AND POLISHING?
It helps to prevent various gum and teeth diseases such as gingivitis, periodontitis, dental caries etc.
It helps to prevent bad breath (halitosis).
It keeps the gum healthy and less sensitive.
It helps to maintain the natural tooth color, texture and brightness.
It helps to improve your smile.
CAN ALL AGE GROUP DO SCALING & POLISHING?
Yes. As long as there is at least a tooth in the mouth, then scaling & polishing can be done. It is beneficial for all age group.
HOW MUCH DOES SCALING & POLISHING COST?
Scaling and Polishing is very affordable as it is a routine dental treatment regularly prescribed by the dentist. In Nigeria, the price ranges from about ₦10,000 (Ten Thousand Naira) and above in most urban areas depending on the type of care provider and cost of living within the geographical area.