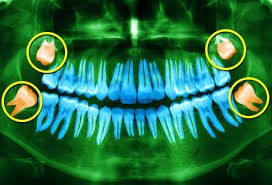 When the word "wisdom tooth" is mentioned, some may think it makes them smarter or wiser. However, the wisdom has to do with the age of the tooth, i.e how long it took it to erupt into the mouth. Wisdom teeth are the third and final sets of molars (the biggest tooth type in the mouth used for chewing food) teeth that comes into the mouth from around ages 17 years and 25 years. They are normally four that erupts at the back of the mouth, with one in each corner of the mouth.
Wisdom teeth are valuable teeth when they are healthy and align properly with other sets of teeth. However, more often they are misaligned and require removal. The most common problem with wisdom teeth is impaction. Impaction of wisdom tooth implies that the tooth did not erupt appropriately or failed to erupt and this is because there isn't sufficient space in the mouth for it to come out appropriately. It is believed that about one in ten persons in Nigeria have an impacted wisdom tooth.
Other problems associated with wisdom tooth include:
Presence of tooth cavities or infection;
Presence of gum swelling around the tooth referred to as pericoronitis;
It tends to damage nearby tooth;
There may be bone loss around the roots of the tooth;
Occasionally, its presence may be a risk factor for formation of cysts, a sac-like pocket of tissues that may contain air, fluid or other substances;
Inability to properly brush and clean around the tooth due to its distant location in the mouth.
IMPACTED WISDOM TEETH
Impacted wisdom teeth can result in pain, damage to other teeth and other dental problems. In some cases, impacted wisdom teeth may cause no apparent or immediate problems. However, it is worth noting that they are hard to clean and more vulnerable to tooth decay and gum disease than other teeth. Impacted teeth that cause various dental problems are usually removed and at times those not having issues yet are advised to be removed to prevent serious dental complications in the future.
SYMPTOMS OF IMPACTED WISDOM TEETH
Impacted tooth that causes dental problems may present with the following symptoms:
Jaw pain;
Red and swollen gums;
Inability to open the mouth adequately;
Bleeding and painful gums;
Bad breath;
Ear ache;
Jaw swelling;
Unpleasant taste in the mouth;
Loss of appetite;
Sore throat.
CAN IMPACTION OF WISDOM TEETH BE PREVENTED?
No, you cannot prevent impaction of teeth. However, you can monitor the growth of your wisdom teeth by keeping regular 6 monthly checkups with your dentist for teeth cleaning who may recommend taking X-ray of the teeth to examine how they grow. Also, maintaining good oral hygiene practices can help reduce the amount of plaque buildup around the tooth.
WHEN SHOULD I VISIT THE DENTIST?
You should visit your dentist regularly (at least every 6 months). You should also book an appointment with your dentist when you feel any symptom or discomfort around your wisdom tooth.
HOW IS IMPACTED WISDOM TEETH TREATED?
The treatment of impacted teeth is dependent on if the tooth is symptomatic or not and the position of the tooth in the mouth. Your dentist may recommend that you remove the tooth even when there is no symptom. This is usually to prevent future problems with the tooth. Generally, an impacted wisdom tooth that presents with symptom is usually removed surgically.
The extraction is usually done as an outpatient procedure, so you will be able to go home after the procedure. It is always advised that you go for the treatment with someone to support you. During the treatment, a local anaesthesia is injected into the gums around the tooth to numb the area and prevent you from feeling pain during the procedure. A sedative drug may also be given before the procedure to make you feel more comfortable during the procedure. The gum around the tooth is incised and any bone obstructing the removal of the tooth is removed and the tooth taken out. Stitches are then placed on the gum to close the socket a bit. A gauze pack may be applied to stop any bleeding and supportive instructions are given to you.
HOW LONG DOES IT TAKE TO HEAL?
A surgical removal of tooth may take a few weeks to a few months to heal completely. However, within one or two weeks, sufficient healing has taken place to allow you to eat appropriately. Following the extraction there may be minor bleeding within the first 24 hours and swelling may occur within the first few days. The dentist may recommend use of ice packs and place you on some medications to reduce swelling, pain, infection and facilitate healing of the area. Usually, you are placed on warm saline mouth rinse after 24 hours of tooth removal which you are to do at least eight times daily for about a week.
WHAT ARE THE POTENTIAL COMPLICATIONS THAT MAY ARISE FROM REMOVAL OF WISDOM TOOTH?
Dry Socket – This occurs when the socket where the tooth is removed get infected and this usually happen when you fail to comply with instructions given by your dentist. This condition can easily be managed, ensure you go back for follow up appointment with your dentist.
Paraesthesia – This is loss of sensation on the area where the tooth is removed. It rarely occurs.
HOW MUCH DOES WISDOM TEETH EXTRACTION COSTS?
In Nigeria, surgical removal of wisdom teeth may cost between Thirty thousand Naira (₦30,000) and Ninety thousand Naira (₦90,000). This is because costs vary in different location of the country, rural or urban. Usually, insurance with health maintenance organizations (HMOs) may cover some or all of cost of the procedure.